Copyright photographie : Uriel Mont
It often takes time to come up with a perfectly adapted hair routine: the right products, the right quantity, the right movements… And when we travel, our routine is turned upside down. Our hair faces new constraints and new environments. However, with a few simple tips and some advance planning, you can keep your hair healthy and well-groomed during your adventures.
In this article, we'll share some practical tips for adapting your hair routine when travelling.
1. Prepare before you travel:
Before you leave on your trip, take the time to prepare your hair. Trim any split ends to prevent them from getting worse during your trip. Opt for nourishing and moisturising hair care products to strengthen your hair before you leave. Take the time to do a complete routine before you leave! That way, your hair will be more resistant to the stresses of travel.
2. Simplify your toiletries: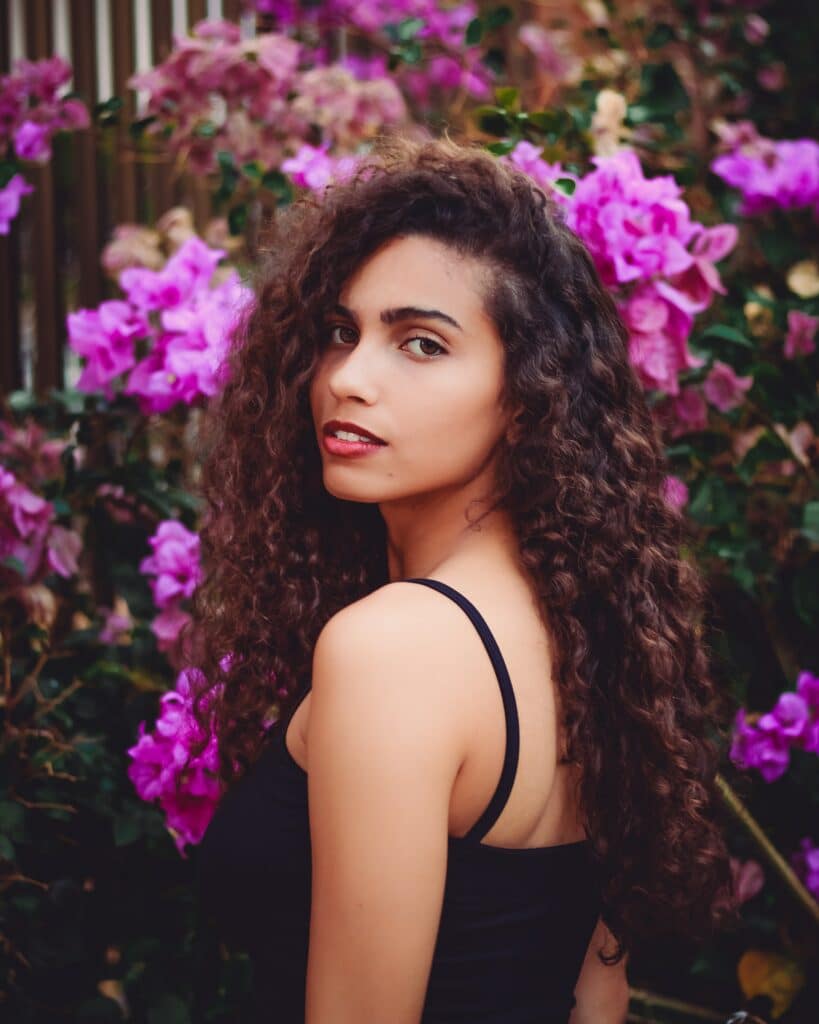 When you travel, it's best to limit the number of hair products you take with you. Opt for travel sizes or transfer your products to reusable travel containers. You can take the essentials of your routine with you in a smaller format! If you're limited, choose essential products like our First Mousse and Hair BB Cream. If possible, use multi-purpose products that can be used for both hair and body care, such as coconut oil.
Solid products are also very practical: they don't take up any space and there's no risk of them spilling on your stuff (as well as being ultra eco-friendly). We've got everything you need: a solid shampoo, a solid soap and an all-in-one solid soap for kids!
Copyright photographie : Ricael Sousa
3. Protect your hair from the sun:
When travelling to sunny destinations, it's important to protect your hair from UV rays. Use a hat, cap or scarf to cover your hair during periods of sun exposure. Also apply a hair sunscreen to prevent sun damage, such as drying and discolouration. We've got more tips here.
4. Adapt your washing routine:
Water in different regions can vary in hardness and chemical make-up, which can affect your hair. If the water is very hard, use a clarifying shampoo occasionally to remove product residue and mineral deposits. If the water is very soft, use less shampoo to avoid weighing your hair down. You could also consider using a leave-in conditioner to keep your hair moisturised between washes.
You can opt for our cream shampoo, which is ideal for holidays: it is both a cleanser and a detangler.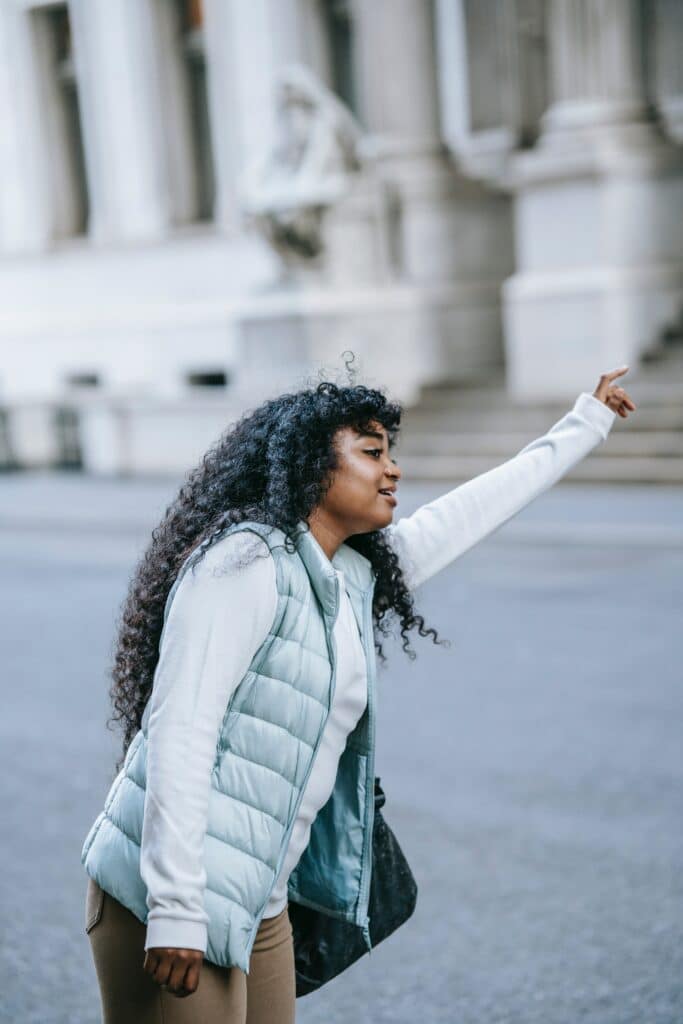 Copyright photographie : Uriel Mont
5. Opt for simple hairstyles:
When travelling, it can be practical to opt for simple, practical hairstyles that require little effort. Braids, relaxed buns, ponytails or hair accessories such as headbands or scarves can be your allies. Not only are these hairstyles easy to achieve, they also help protect your hair from the elements.
6. Don't put pressure on yourself: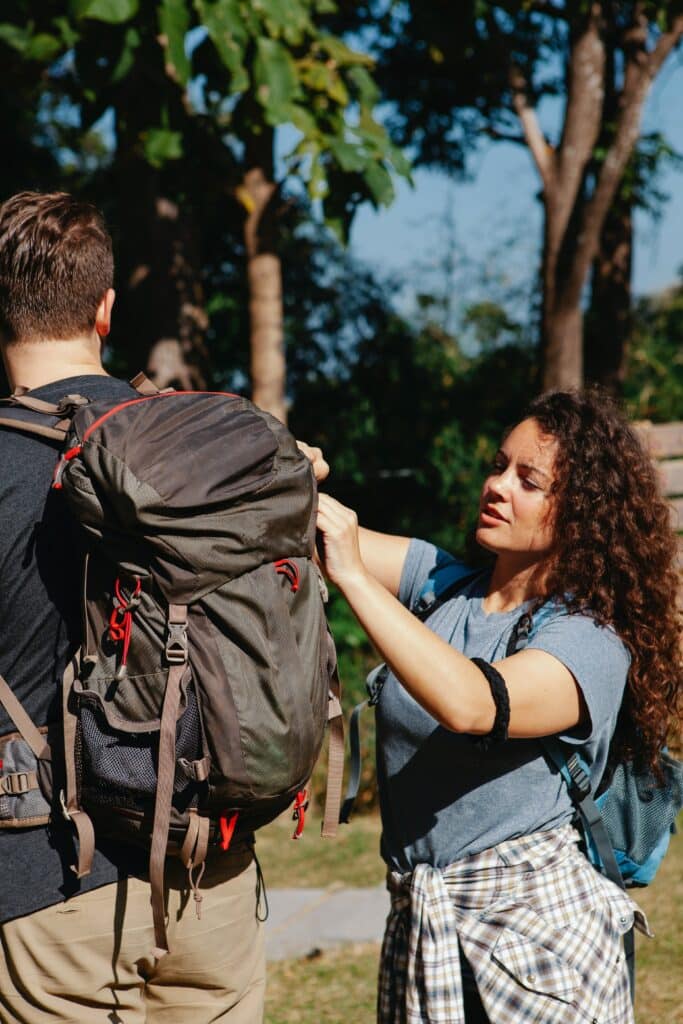 If you have a specific routine, you may be frustrated at the idea of not being able to stick to it, perhaps thinking that it will spoil all your efforts. But depending on the type of trip, it can be very difficult to stick to it! Between a stay in a 5-star hotel and wild camping in the heart of the mountains, the conditions are not the same. Don't worry: your efforts won't be ruined if you put your routine on hold for the duration of your holiday. All you have to do is give yourself a good, thorough treatment when you get back! Don't worry and enjoy your holiday.
Copyright photographie : Vanessa Garcia
Adapting your hair routine when you travel is essential to keeping your hair healthy and well-groomed. By preparing your hair before you leave, simplifying your toiletries, protecting it from the sun, adapting your washing routine and opting for simple hairstyles, you can look after your hair wherever you are. Don't forget to make the most of your trip to take care of yourself… and that doesn't always mean physical care! Escaping, dreaming, relaxing and exercising are all essential to your well-being. Mens sana in corpore sano (a healthy mind in a healthy body), so enjoy!
Here is an article to know how to take care of your curls when coming back from holidays !